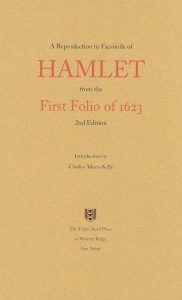 Awarded an Independent Publisher Bronze Medal for Book Arts & Craftsmanship, the Facsimile is reproduced on large scale premium quality laid-finish paper duplicating the appearance of the text of Hamlet as it appeared in the First Folio.
This edition is supplemented by a brief introduction to the three substantive texts of Hamlet and how they fit into the broader context of the printing and publishing of Shakespeare's plays, including the First Folio of 1623. This supplementary material contains a number of diagrams and charts, including two large foldouts detailing the significant blocks of text unique to the Q2 (1604/5) text vs. the Folio (1623) text, and unique to the Folio vs. Q2.
The Facsimile will prove especially appealing to students and scholars concerned with the variant texts of the plays, and who may relish the experience of holding in their hands something that looks very much like what Shakespeare's contemporaries might have read.
The Facsimile is available for purchase from the Howland Research Shop.
Softcover ISBN: 978-0-9662126-7-9
List price $34.95. Enter coupon code 'ac-foliofacsimile' at checkout to receive the academic/educator's price of $24.95.