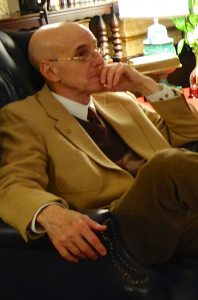 Charles Adams Kelly founded Howland Research of Ann Arbor in 1995, and since 2003 has designed text-graphic / digital-graphic research tools focused on Shakespeare's variant text plays. The conceptual work involved began in the late 1960s at Michigan State University and has resulted in four process patents. He is presently a Visiting Scholar at the University of Michigan.
Kelly and his team of research assistants have completed a multi-year proof-of-concept project involving Shakespeare textual tools of four kinds: text-editing tools, stage script planning and theater educational tools, text research tools, the prototype focused on the 1603 1st Quarto of Hamlet, and publications simply for the pleasure of reading.
The Triple Anvil Press won its first design recognition in 2008, and in 2014, The Brief Reign and Death of King Claudius, a play within the text of Shakespeare's Hamlet won "Outstanding Book of the Year" recognition. From among 5600 books from 11 countries entered in the Independent Publishers awards competition, nine books won this distinction. Additionally, the flagship research publication, The Hamlet Text Research Toolset, is in its 3rd edition. Most recently, the character narratives of Ophelia, Gertrude, and Horatio, edited principally by co-editor and co-designer Dayna Leigh Plehn, were utilized in a 300-level theater course in the University of Michigan Theater Department, and are being prepared for the stage.
Background and Interests
Charles Kelly studied mechanical engineering at the University of Michigan and won a scholarship to pursue his MBA from Michigan State University. He was admitted into the PhD Program in 1968, but elected to pursue a career in industry. Career highlights included early use of time-sharing computers, negotiations in Japan, and sponsorship to a strategic management program at Harvard University.
Kelly is a member of the Grolier Club of New York, the Caxton Club of Chicago, and is a past President of the Prismatic Club of Detroit, the Detroit area's literary club. He serves on the the English Advisory Board of the University of Michigan and has served on similar boards at the University of Chicago. As a portion of his charitable giving, he has sponsored students for study in Europe, and has recently established a scholarship in the Department of Theatre and Drama at the University of Michigan. As a racing sailor, he has raced in the Etchells Class, a favorite of many America's Cup sailors. Additionally, he has restored antique Jaguar and Bentley automobiles, and wooden Chris-Craft boats. His current automotive passion is the Maserati Spyder, the model that heralded the maker's return to the American market.
Contact: ckelly@howlandresearch.com